2019: Annual Gurmat Samagam Dhodiwind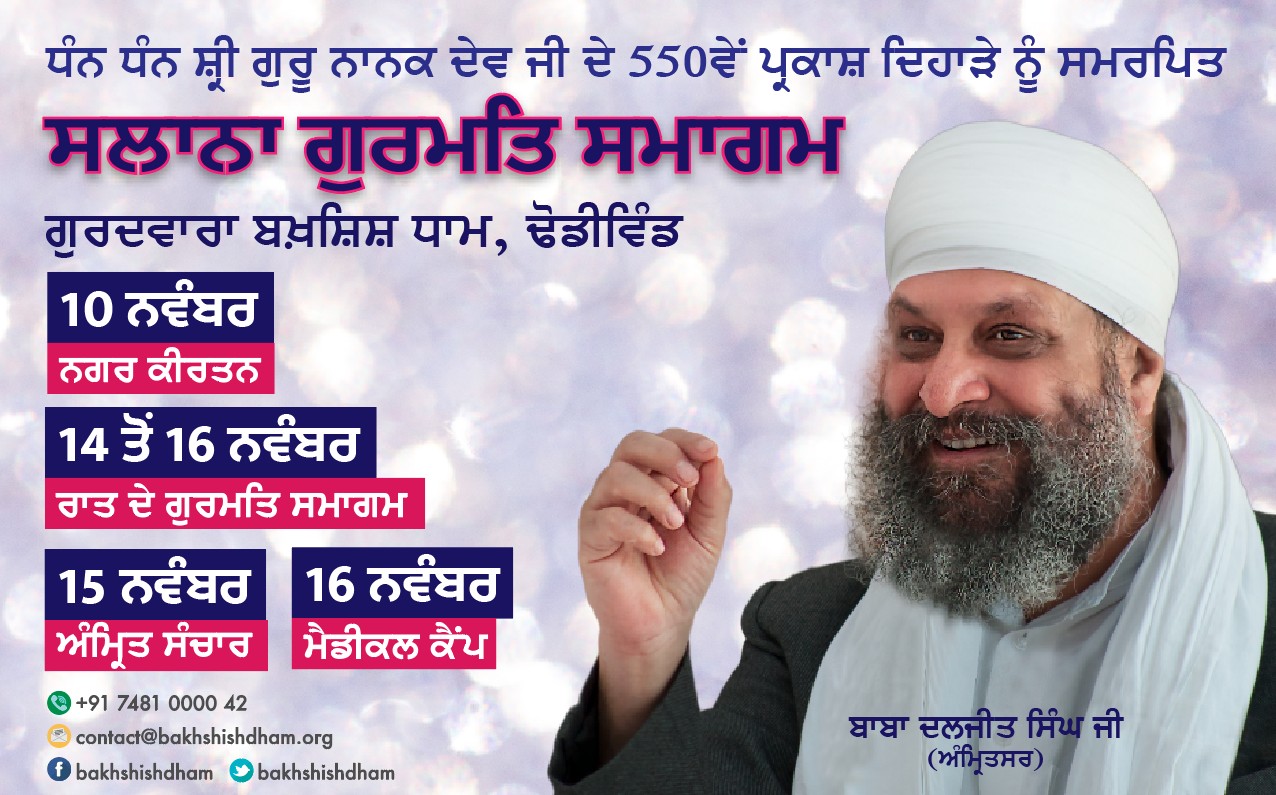 ---
Gurdwara Bakhshish Dham, in the able supervision of Baba Daljit Singh Ji (Amritsar), is organising an Annual Gurmat Samagam, Amrit Sanchar and Free Medical Camp at Gurdwara Bakhshish Dham, village Dhodiwind, Amritsar.
Gurmat Samagam will be organised at Gurdwara Bakhshish Dham, Dhodiwind, Amritsar from 14th Nov 2019 to 16th November 2019.
Amrit Sanchaar will be organised on 15th November 2019, Kakaar will be given by Gurdwara Bakhshish Dham, free of cost.
Free medical camp will be organised on 16th November 2019. Apart from free medicines, we will also be distributing Wheelchairs, Tricycles and Sewing machines to needy on the same day in association with Bakhshish International Charitable Society, Jalandhar.
If anybody would like to contribute, please let us know. We will be mentioning contributor's name on Wheelchair, tricycle and sewing machine. Contributors will also get donation receipt which can be used to claim income tax exemption under Section 80G of Income Tax Act in India.
Please provide details before 10th November, 2019 so that we can make necessary arrangements
Everyone is requested to be part of this divine event.
Your contribution in every sense, be it financial or promotional, is very important because this event is organised with joint efforts of the Sangat.
For direct transfer, cheque or demand draft, please send your donations in favour of:
Bakhshish International Charitable Society®
Bank: HDFC Bank Ltd.
Current Account No.: 1383 100 0009411
Branch: Chhoti Baradari, Jalandhar
IFSC Code: HDFC0001383
For more information and donations, please contact the following persons based on region:
You can also get in touch with us through email.