2020: Gurmat Samagam at Ramdas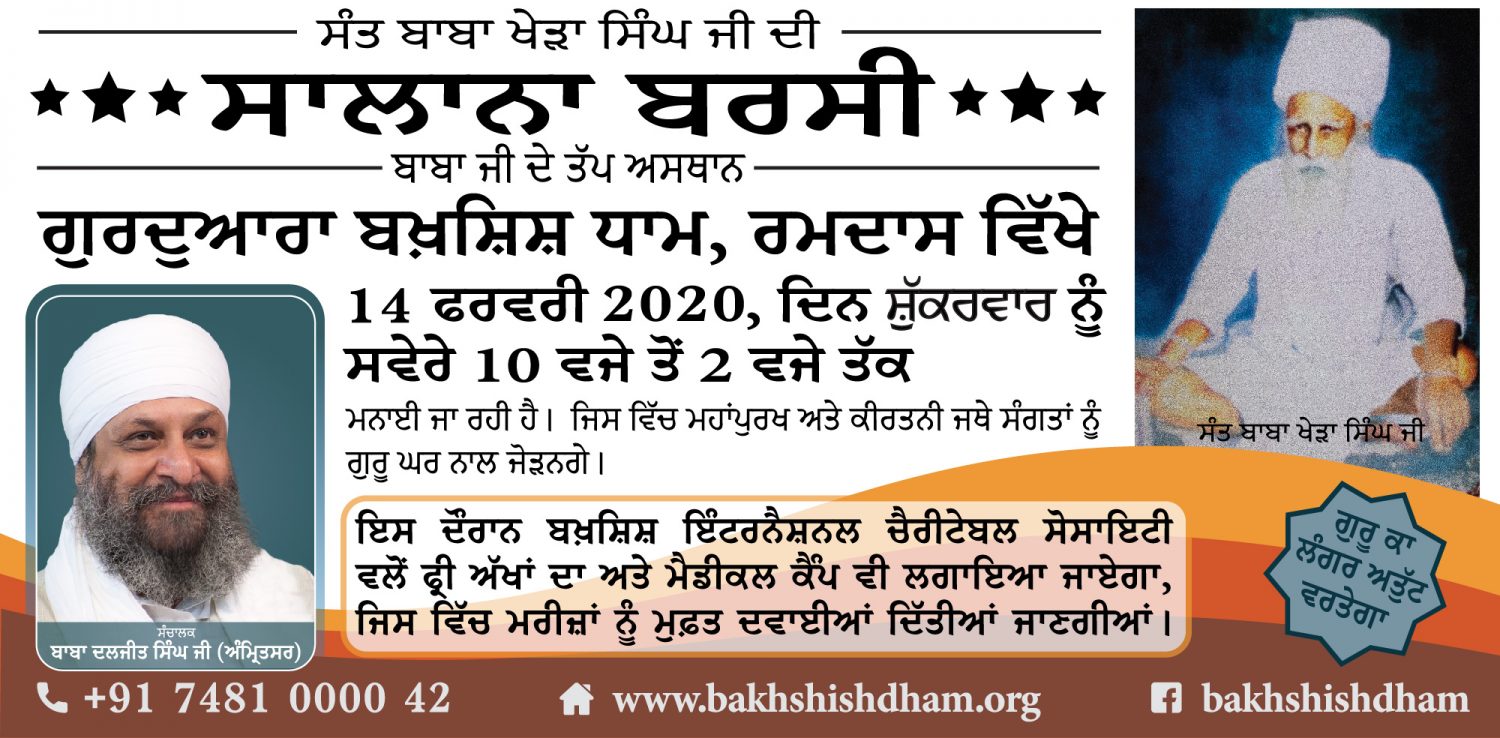 ---
Gurmat Samagam at Gurdwara Bakhshish Dham, Ramdas on Friday, 14th Feb, 2020 from 10:00am to 2:00pm.
During this event Various Kirtani Jathas and divine personalities will enlighten sangat with shabad guru.
Medical camp will be held by Bakhshish International Charitable Society. Free eye check-up and medicines will be provided to the sangat.
All are requested to be part of this divine event and oblige us.
ਗੁਰਮਤਿ ਸਮਾਗਮ ਗੁਰਦੁਆਰਾ ਬਖ਼ਸ਼ਿਸ਼ ਧਾਮ, ਰਾਮਦਾਸ ਵਿਖੇ 14 ਫਰਵਰੀ, 2020 ਸ਼ੁੱਕਰਵਾਰ ਨੂੰ ਸਵੇਰੇ 10:00 ਵਜੇ ਤੋਂ ਦੁਪਹਿਰ 2:00 ਵਜੇ ਤੱਕ ਹੋਵੇਗਾ।ਇਸ ਸਮਾਗਮ ਦੌਰਾਨ ਵੱਖ-ਵੱਖ ਕੀਰਤਨੀ ਜਥੇ ਅਤੇ ਮਹਾਂਪੁਰਖ ਸੰਗਤਾਂ ਨੂੰ ਗੁਰੂ ਘਰ ਨਾਲ ਜੋੜਨਗੇ।
ਇਸ ਦੌਰਾਨ ਬਖ਼ਸ਼ਿਸ਼ ਇੰਟਰਨੈਸ਼ਨਲ ਸੋਸਾਇਟੀ ਵਲੋਂ ਫ੍ਰੀ ਅੱਖਾਂ ਦਾ ਅਤੇ ਮੈਡੀਕਲ ਕੈੰਪ ਵੀ ਲਗਾਇਆ ਜਾਏਗਾ।
ਸਮੂਹ ਸੰਗਤ ਨੂੰ ਬੇਨਤੀ ਕੀਤੀ ਜਾਂਦੀ ਹੈ ਕਿ ਉਹ ਇਹਨਾਂ ਸਮਾਗਮਾਂ ਦਾ ਹਿੱਸਾ ਬਣਨ ਅਤੇ ਆਪਣਾ ਜੀਵਨ ਸਫਲ ਕਰਨ।