2021: Gurmat Samagam at Village Thathi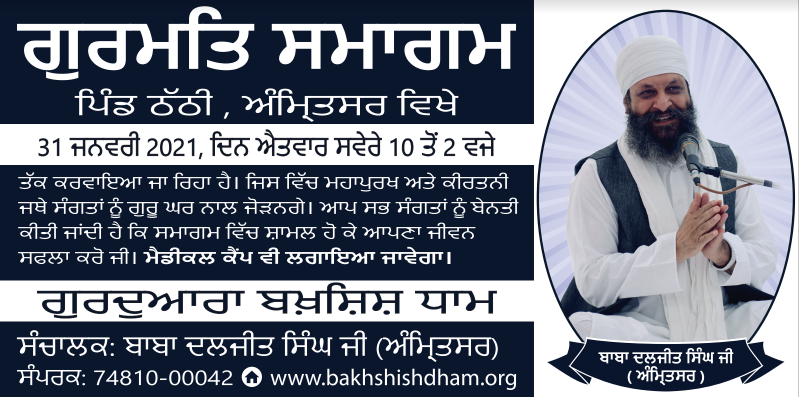 ---
An annual Gurmat Samagam is being organised at Village Thathi on Sunday, 31th Jan, 2021 between 10:00am to 2:00pm.
During this event various Kirtani Jathas and divine personalities will enlighten sangat with shabad guru.
 Free Medical camp will also be organised by Bakhshish International Charitable Society.
If you wish to contribute, please contact us at +91 7481 0000 42 or by email.
All are requested to be part of this divine event.
ਸਾਲਾਨਾ ਗੁਰਮਤਿ ਸਮਾਗਮ ਪਿੰਡ ਠੱਠੀ ਵਿਖੇ ਮਿਤੀ 31 ਜਨਵਰੀ 2021 ਨੂੰ ਦਿਨ ਐਤਵਾਰ ਸਵੇਰੇ 10:00 ਤੋ 02:00 ਵਜੇ ਤਕ ਕਰਵਾਇਆ ਜਾ ਰਿਹਾ ਹੈ।
ਸਮਾਗਮ ਵਿੱਚ ਕੀਰਤਨੀ ਜੱਥੇ ਅਤੇ ਮਹਾਂਪੁਰਖ ਸੰਗਤਾਂ ਨੂੰ ਸ਼ਬਦ ਗੁਰੂ ਨਾਲ ਜੋੜਨਗੇ।
ਇਸ ਦੌਰਾਨ ਬਖ਼ਸ਼ਿਸ਼ ਇੰਟਰਨੈਸ਼ਨਲ ਚੈਰੀਟੇਬਲ ਸੋਸਾਇਟੀ ਵਲੋ ਫ੍ਰੀ ਮੈਡੀਕਲ ਕੈੰਪ ਲਗਵਾਇਆ ਜਾ ਰਿਹਾ ਹੈ।
ਵਧੇਰੇ ਜਾਣਕਾਰੀ ਲਈ ਸੰਪਰਕ ਕਰੋ +91 7481 0000 42
ਸੰਗਤ ਨੂੰ ਬੇਨਤੀ ਹੈ ਇਸ ਸਮਾਗਮ ਵਿਚ ਹਾਜ਼ਰੀ ਭਰੋ ਜੀ।